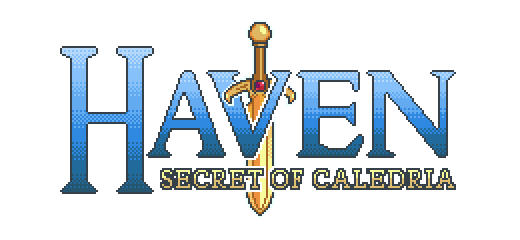 Haven: Secret of Caledria
A downloadable game for Windows
If you enjoyed the game, feel free to show your support HERE.

Developer's Note

When I play classic JRPGs from the 90's, the overwhelming nostalgia I get makes me wish that I could erase my memory of those games just so I could get that fresh experience . That nostalgia is a constant source of motivation for Haven: Secret of Caledria.

My goal is to create a classic JRPG experience that's palatable to a modern, older audience. As someone with a full-time job and a family, I realize that old-school JRPG fans don't have a lot of time to sink into a 20+ hour game. So this game will be for those who can enjoy a somewhat linear game with familiar gameplay and features inspired by classics like Lufia, Breath of Fire, Suikoden, and Chrono Trigger.
Synopsis
A raid on the region of Olund comes to a halt when Ziedrick, Captain of the Caledrian army, finds out that he was manipulated by Emperor Rofel to lead the attack. His decision to spare the lives of the Olund rebels sets a plan in motion that ushers in an age of peace. Five years later, Ziedrick would pass away, leaving his son Oswyn to carry on his legacy.

In an attempt to live up to his father's image, Oswyn quickly rose among the ranks of the Caledrian Army. But with the war coming to a close, he begins to feel a lack of purpose and questions whether or not he should carve his own path to find himself.
Features
On-Map Encounters

Encounter enemies through direct contact while moving in hostile areas. Specific effects will be triggered based on the direction the enemy is facing when approached.
Target Enemies based on Area of Effect
Use your Arts to target enemies in a row, column, or radius.
Unleash Special Attacks
Build your Morale and defeat your enemies using attacks that are unique to each party member.
Capture and use Monster abilities in battle!
Assign specific monster abilities to your party members and use them in battle.
Build up a Village to Unlock Secrets (Not in Demo)
Gain new abilities and hidden items as you grow your base of operations.
Embark on various Sidequests
Explore the world of Caledria to unlock hidden locations, characters, items, and more.
Download
Click download now to get access to the following files:
Comments
Log in with itch.io to leave a comment.
Quality game that gets better every iteration. This ones gonna be special.
Fantastic Demo. Everything about this game was top notch. The style was consistent throughout, and definitely evoked the retro vibe you were aiming for. The story unfolded nicely. The characters had depth and potential for some solid development. The battles were simple, but balanced and still required strategy. Solid, all the way through. I highly recommend this one. I'm looking forward to playing the full version one day.

Really enjoyed playing the demo...can't wait for the full game!
Great classic feeling RPG! The immersive story and outstanding character development kept me very interested! The battle system and equipment are not complicated. No sharp learning curve. My biggest complaint is that it isn't long enough! Keep up the great work!
como se descargan los juegos desde este tipo de pagina
Who made your title theme?
A pixel artist who goes by the name of ConkerMich. His website is linked HERE. He works fast and is great with responding to messages.
Oh I was meaning to say who made your title music lol my bad.
That's more my fault for misunderstanding. lol. A lot of the music in the game (including the title theme) is made by Phil Hamilton. He has some game soundtracks for sale HERE.
Can his songs be used for commercial games?
Only one of the soundtracks. It can be purchased at the RPGMakerweb store.
Great game so far - it does crash occasionally, but I'm not sure exactly why.
Glad you enjoyed it! I believe I've found the cause of the crashing issue. There was a memory leak due to some faulty code. Should be fixed with a new version tomorrow. Thanks!
Great. :) Too bad the demo is so short. :) I can't wait until you release the full game. :)